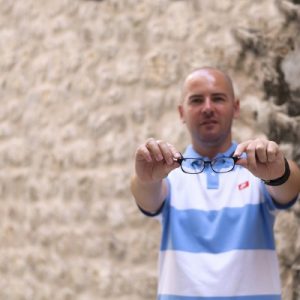 EN version
I like to shoot … That's how it all started … By the year 2000, I had the great pleasure of using a Nikon F50 camera with a telephoto lens.
From a simple play everything turned into curiosity, I spent a lot of time learning and discovering new technical and artistic secrets, then following the first serious photos.
In 2013 I graduated the course of photographic technique and art at the Nufărul Photographic Club in Oradea.
The course was very useful to me, knowing many people with experience and passion for photography, from whom I received many tips to improve my photography technique.
Courage and skill appeared with the experience gained, and also with much effort and perseverance, and their own artistic style was better defined after each photographic project.
I like to create unique photos and I try to be better, more creative and reinvent myself. All types of photography find them special, so I love photographic art and whose evolution I follow with interest.
I invite you to visit my site, www.ciprianfoto.ro
With friendship,
Ciprian BABA-FILIMON (CiprianFOTO)
Versiune RO
Îmi place să fotografiez…Aşa a început totul…prin anul 2000, am avut marea placere de a folosi un aparat Nikon F50 alături de un teleobiectiv.
Dintr-o simplă joacă totul s-a transformat apoi într-o curiozitate, petreceam mult timp învățând și descoperind noi secrete tehnice si artistice, urmând apoi primele fotografii serioase.
În 2013 am absolvit cursul de tehnică şi artă fotografică la Clubul Fotografic Nufărul din Oradea.
Cursul chiar mi-a fost foarte util, cunoscând mulţi oameni cu experienta şi pasionaţi de fotografie, de la care am primit multe sfaturi pentru a-mi îmbunătăţi tehnica fotografica.
Curajul și îndemânarea au apărut odată cu experiența dobândită, și totodată cu mult efort și perseverență, iar stilul artistic propriu a fost mai bine definit după fiecare proiect fotografic.
Îmi place să creez fotografii unice şi încerc să fiu mai bun, mai creativ şi să mă reinventez.
Toate tipurile de fotografie le găsesc deosebite, deci iubesc arta fotografică și a cărei evoluție o urmăresc cu interes.
Vă invit să vizitaţi site-ul meu, www.ciprianfoto.ro
Cu prietenie,
Ciprian BABA-FILIMON (CiprianFOTO)