Photoshop Tutorial: How To Blend Realistic Two Photos In Adobe Photoshop 2021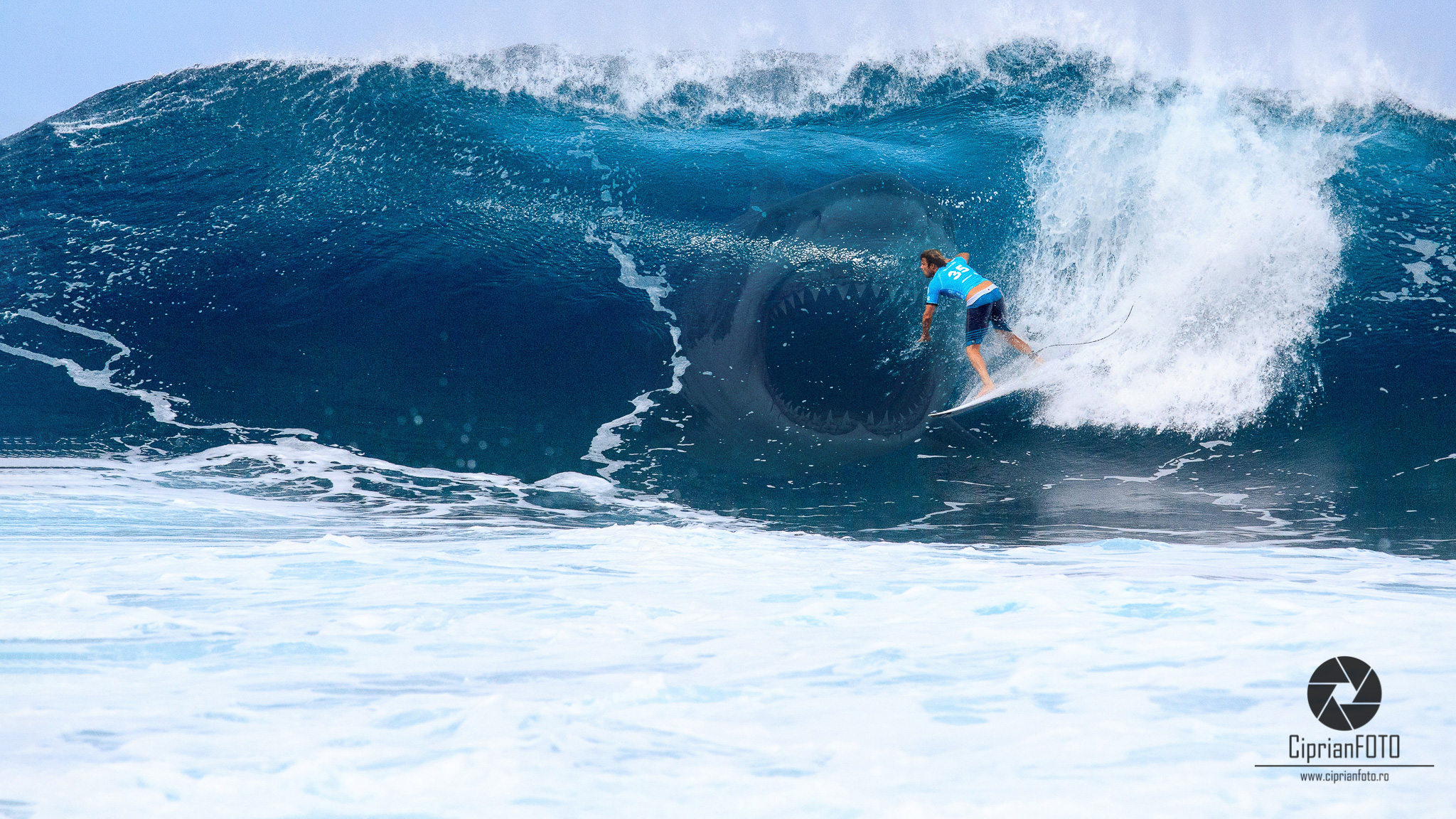 1. First, open the picture with the surfer and waves, and rename it, Surfer.
2. Open the second photo, with the shark, and cut-out the fish with the Object Selection tool (W), after that go to click on the Select Subject — Create a new layer with the keyboard combination, cmd+J.
3. Select the Move tool (V) — Rename the new layer, Shark — Use the Transform tool (cmd+T) and make him smaller, and put the shark in your composition.
4. Duplicate the Surfer layer, and rename it the new one, Water — And put the Water layer, above the Shark — Select the Water layer, and change the Opacity from 100% to 70%.
5. Select the Shark layer — right click and choose Blending Options — Blend if: must remain Gray, and at the Underlying Layer drag the cursor from right to left, more exactly put on the 150, and with the ALT key, separate the cursor, and drag to the 70.
6. Also to the Shark layer — right click and choose Blending Options — Choose Color Overlay — Color Picker — and with the Eyedropper tool (I) choose a dark blue — Blend mode: Normal — Opacity: set to 35%.
7. Add a layer mask to the Shark layer — Select the Brush tool (B) — Use Soft Round — Set the Opacity at 40%, and Flow at 20%, and paint with the brush the Shark to make him realistic in the water.
8. Select all three layers and create a group folder (Group 1) and remain on the folder, after that use the keys combination: Cmd+Alt+Shift+E, to create another layer, with the artwork.
That's it!
——————————————————————-
Stock images: https://bit.ly/36wvd6g
SUBSCRIBE to my channel for more tutorials: https://goo.gl/1rsGyE
The secondary gaming channel, gamerulBABA: https://bit.ly/3hL7G53
——————————————————————-
Other Playlists
Photo Manipulation Tutorials: https://bit.ly/3mEZBmg
Photoshop Tutorials: https://bit.ly/3kxezsA
Lightroom Tutorials: https://bit.ly/2RHplzV
——————————————————————-
Follow CiprianFOTO
WebSite: https://goo.gl/rs7ozU
Instagram: https://goo.gl/FXffXI
——————————————————————-
Music: Artist: Ship Wrek & Zookeepers – Ark [NCS Release]
Music link: https://bit.ly/36wvd6g
Thanks for watching! CiprianFOTO
——————————————————————-
-~-~~-~~~-~~-~-
Please watch: "Photoshop The Apple iPhone 12 Wallpaper In Few Minutes" https://www.youtube.com/watch?v=MGqz-zgGD-I
-~-~~-~~~-~~-~-
——————————————————————-
#Photoshop2021 #BlendingTrick #CiprianFOTO
WATCH VIDEO: